The Xenophobe's Guide
to the Welsh
by John Winterson Richards
A guide to understanding the Welsh that explores their nature and outlook with benevolence and humour.
The Xenophobe's Guide to the Welsh
is now available on Kindle
CLICK HERE FOR KINDLE STORE UK
CLICK HERE FOR KINDLE STORE USA
Welsh wilfullness
The Welsh are stubborn - very, very stubborn. The Welsh themselves would probably rather say 'tenacious', but to anyone on the receiving end a better description might well be 'bloody-minded'.
Proud and proud of it
Welsh pride is real pride - the sort of mindless, instinctive, animal pride that requires no justification or excuse. It is simply pride for the sake of pride. Such pride is the only thing one has left when one has been stripped of everything else.
It's not unusual to be ... an actor
Given the propensity of Welsh people of all types to overact at every given opportunity, it is not surprising that those who manage to tone it down a bit have gone on to world fame as actors (or politicians, who are, after all, only an inferior species of actors).
Warriors at heart
The Welsh are extremely proficient at rugby. They enjoy it and they take it seriously. This is because rugby - with its physical aggression, tactics, disciplined use of brute force and organised violence - is the closest thing modern day life can offer to Wales' traditional national sport: war.
A short but very witty and extremely well observed overview of Wales, its people and culture. Working its way through religion, sport, social structure (the Welsh Matriarchy), drinking, rugby, and more drinking, it had me laughing out loud with it's insightful observations (although these were not always complimentary, they were all true! ). Well worth a read if you are Welsh, or if you know somebody who is about to travel to Wales.
Ottawa, Canada
The Welsh, like the Scots, share Britain with the English and get very annoyed when they are lumped in with "England". The prickly and sometimes violent relationship between the Principality and its large neighbour has shaped both nations, but especially Wales. It has also led to the growth of a lot of stereotypes about the Welsh as held and purveyed by the English, most of them unflattering. This book looks in an informative and entertaining way at what makes the Welsh different, what makes them tick, and what makes them special. As someone with ancestral roots in Wales, family connections, and a fairly frequent visitor I found it well worth reading and very true to life.
Ireland
An enlightened new series, good natured, witty and useful. The Xenophobe's Guides to different nations deserves a real cheer.
The European
Each book is an entertaining essay on the failings, foibles and good points of their subjects. Their humour is relaxed and gentle and it would be a sour, churlish native of a subject country who would object seriously.
The Northern Times
| | |
| --- | --- |
| Table of Contents | |
Nationalism and Identity
Character
Attitudes and Values
Happy Families
Manners and Behaviour
Leisure and Pleasure
Drinking and Eating
Custom and Tradition
Sense of Humour
Culture
Systems
Culture
Systems
Business and Commerce
Government
Language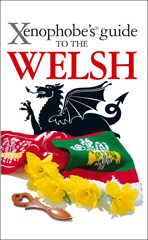 Author: John Winterson Richards
Format: 96 pages, pb
Published: 01/07/2008
NEW EDITION
Price: £4.99
ISBN: 978-1-906042-51-6
Online eBook. Click on button below to sample.