The Xenophobe's Guide
to the Dutch
by Rodney Bolt
A guide to understanding the Dutch that goes beyond the tulips and windmills to reveal their real personality and peculiarities.
The Xenophobe's Guide to the Dutch
is now available on Kindle
CLICK HERE FOR KINDLE STORE UK
CLICK HERE FOR KINDLE STORE USA
It's all in your mind
The spirit of tolerance does constant battle with the ghost of Calvin for control of the Dutch psyche. Few Dutch people go to church any more, but they don't need to. Inside every Hollander's head is a little pulpit containing a preacher with a wagging finger.
Going Dutch
This is the nation that once sold scrapers for getting the last remnants of the film of buttermilk from the inside of the bottle. The Dutch 'think with their pockets'. Parsimony is not an embarrassment, but a virtue.
Culture vultures
The Dutch are cultural magpies. They keep a beady eye on other people's cultural trends, and are swift to snap up sparkling new fashions. This means that rather than producing an indigenous culture, they have become voracious consumers of everybody else's - true Europeans, whose cultural fads and fancies know no borders. The Netherlands acts as a giant cultural sponge.
Double Dutch
For the Dutch, the other side of the question is as important as the question itself. Dialogue is the lubricant of tolerance, and the essential ingredient of dialogue is 'Yes, but...'.
This guide to the Dutch is the best book I've read about us (yes, I'm Dutch) in many years. None of your clogs and windmills fairy tales, no boring statistics either, but a pretty accurate insight into the Dutch Society and the Dutch ways. It's a funny and tongue-in-cheek book, that very often had me laughing out loud and saying things like, 'Come on, we don't do things like that!', only to realise a few seconds later that we do.
Amersfoort, Netherlands
This book is right on the money, trust me, I am 100% Dutch. When I read this book it makes me laugh. It is very accurate and doesn't give you the average American impression. This book made me proud to be Dutch.
New York, NY and Amsterdam, Netherlands
Must read for anyone visiting/living in Holland. In preparation to move to Holland I decided to get this book, it gave me a great overview of what the Dutch are like..... my friend who has been living in Holland for 2 years was crying with laughter: 'This is exactly what they are like!'. This is a good fun look at other nationalities. I am going to see what the author has to say about us!!!!!!
London, UK
If I were a cabaret artist or stand up comedian, I'd just get up and read these books to the audience as they would bring the house down.
Het Parool (Holland)
An enlightened new series, good natured, witty and useful. The Xenophobe's Guides to different nations deserves a real cheer.
The European
| | |
| --- | --- |
| Table of Contents | |
Nationalism and Identity
Character
Attitudes and Values
Happy Families
Manners and Behaviour
Leisure and Pleasure
Drinking and Eating
Custom and Tradition
Sense of Humour
Culture
Systems
Culture
Systems
Business and Commerce
Government
Language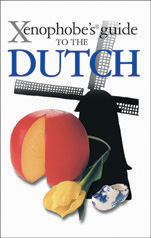 Author: Rodney Bolt
Format: 96 pages, pb
Published: 15/07/08
New edition:
Price: £4.99
ISBN: 978-1-906042-28-8
Online eBook. Click on button below to sample.