The Xenophobe's Guide
to the Italians
by Martin Solly
A guide to understanding the Italians which reveals their cultural curiosities and defining characteristics.
The Xenophobe's Guide to the Italians
is now available on Kindle
CLICK HERE FOR KINDLE STORE UK
CLICK HERE FOR KINDLE STORE USA
La Dolce Vita
The Italians live life to the full, and do not feel in the least bit guilty leading a life of leisure and pleasure twenty-four hours a day, seven days a week, fifty-two weeks a year. This is what life is all about: Italians do not live to work, they work to live.
Achoo Brute?
The most common Italian illness is hypochondria. Italians are in general extremely healthy people who spend a great deal of their time thinking that they should feel healthier than they do.
A little truth goes a long way
Italians grow up knowing that they have to be economical with the truth. All other Italians are, so if they didn't play the game they would be at a serious disadvantage. They have to fabricate to keep one step ahead.
Always look on the bright side of life
Generally speaking, the Italians tend to look on the bright side of life - a positive outlook aptly illustrated by their touching salutation: 'May the saddest days of your future be the happiest days of your past'.
A book you just can't refuse. Hilarious insights into the Italian man and the mother behind him.
San Francisco, CA, USA
Excellent summary of a crazy nation. Haven't tried any of the other xenophobe's guides yet, but this one really hits the mark - in a most amusing fashion - in describing the eccentricities of my Italian girlfriend and her family. Allegria, campanilismo, la mamma: it's all here.
London, UK
This book points out most of the Italians habits (both the bad and good ones) with respect to family, food, love affairs, etc., giving a good picture of the Italian people in an objective, but funny, way. I am Italian and I must admit that most of the attitudes described in the book are real, even if, sometimes, they are a bit exaggerated.
Amsterdam, Netherlands
The Xenophobe's Guide to the Italians fills all the gaps left by the more traditional guidebooks. It does a fine job too, for such tips as ''vehicles with out-of-town plates are regarded as fair game by both local drivers and traffic police'' are surely every bit as useful as advice on where to grab a slice of pizza. Thankfully the book never slips into the literal xenophobia that the title so explicitly suggests. Instead it is a hugely enjoyable and affectionate look at the numerous foibles and eccentricities of the Italian way of life. A useful tool for all those ex-pats strenuously trying to masquerade as native Italians.
Italian magazine
An enlightened new series, good natured, witty and useful. The Xenophobe's Guides to different nations deserves a real cheer.
The European
| | |
| --- | --- |
| Table of Contents | |
Nationalism and Identity
Character
Attitudes and Values
Happy Families
Manners and Behaviour
Leisure and Pleasure
Drinking and Eating
Custom and Tradition
Sense of Humour
Culture
Systems
Culture
Systems
Business and Commerce
Government
Language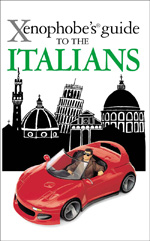 Author: Martin Solly
Format: 96 pages, pb
Published: 15/07/08
New edition
Price: £4.99
ISBN: 978-1-906042-39-4
Online eBook. Click on button below to sample.