The Xenophobe's Guide to the Russians
by Vladimir Zhelvis
A guide to understanding the Russians which goes behind the curtain of bearishness to reveal their soft underbelly.
The Xenophobe's Guide to the Russians
is now available on Kindle
CLICK HERE FOR KINDLE STORE UK
CLICK HERE FOR KINDLE STORE USA
Efficiency deficiency
There are said to be some countries in the world where the government is even less efficient than in Russia. Don't you believe it. There has never been an efficient administration in Russia from time immemorial. Efficiency and government in Russia are incompatible. This, at closer inspection, is not so very bad. When you know that you can expect little or nothing from your government, you feel free to act on your own.
Mother Russia
Power in Russia has been in the hands of women for a long time. If the husband is the head of the family, the wife is the neck, telling the head which way to look. Defeated and subdued, Russian men submissively and, it seems, almost willingly bow to the 'weaker' sex. It is not for nothing that grammatically, 'Russia' is the feminine gender. She is Mother Russia -- nobody would dream of calling her 'Father'.
Getting pickled
A Russian who has not pickled at least a hundred kilos of cucumbers, green tomatoes and peppers, plus a barrel of cabbages, will be looked upon with pity and compassion: he must either be ill or too lazy.
Sealed together
The most characteristic feature of Russians is their feeling of togetherness. Imagine thousands of seals sunning themselves on a hard oceanic rock, so closely pressed against each other that it looks as if it is one big, black, gleaming beast. This is them, the Russians. Once you understand this, you understand what it is to be Russian, for there is hardly anything they may say or do that does not encompass this precious quality of togetherness.
The publisher would welcome your comments on this title.
Xenophobe's Guides make great gifts for friends travelling abroad.
An enlightened new series, good natured, witty and useful. The Xenophobe's Guides to different nations deserves a real cheer.
The European
The Xenophobe's Guides raise a smile and give you an understanding of the beliefs and foibles of nationalities.
Glasgow Evening Times
| | |
| --- | --- |
| Table of Contents | |
Nationalism and Identity
Character
Attitudes and Values
Behaviour
Manners
Obsessions
Drinking and Eating
Health and Hygiene
Sense of Humour
Systems
Leisure and Pleasure
What is Sold Where
Custom and Tradition
Government and Bureaucracy
Business
Culture
Crime and Punishment
Conversation
Language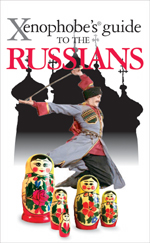 Author: Vladimir Zhelvis
Format: 96 pages, pb
Published: November 2010
Updated: New Edition
Price: £4.99
ISBN: 978-1-906042-46-2
Online eBook. Click on button below to sample.