Greek for Xenophobes
by Alexandra Fiada
You will never need to fear another umlaut. Cedillas are things of the past and accents will never cause you acute or grave pain again. And dipthongs will belong on the beach. Speak like a native by speaking English.
I speak Spanish to God, Italian to women, French to men, and German to my horse. I would never be without my Xenophobe's phrase book.
Accredited to Emperor Charles V (1500-1558)
| | |
| --- | --- |
| Table of Contents | |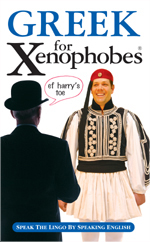 Author: Alexandra Fiada
Sketches: Charles Hemming
Format: 64 pages, pb
Published: June 2006
Price: £3.99
ISBN-10 & ISBN-13: 1-903096-27-8
Have you read the Xenophobe's Guide to the Greeks?