The Xenophobe's Guide to the Estonians
by Hilary Bird, Lembit Opik and Ulvi Mustmaa
A guide to understanding the Estonians that gets beyond theflag waving and reveals their true spirit and character.
The Xenophobe's Guide to the Estonians
is now available on Kindle
CLICK HERE FOR KINDLE STORE UK
CLICK HERE FOR KINDLE STORE USA
Ham TV
One of the nation's most watched shows is a live relay from a forest glade transmitted via the Internet. The stars are wild pigs. Nothing happens for hours on end and when the obliging swine eventually show up for the food that is left for them, excited Estonians call their family and friends at ungodly hours so that they can watch (and hear) the porcine population pigging out.
eStonia
Beyond the glass and steel towers of Tallinn the country may look quaint and serene, but 21st-century microchips lurk everywhere: the Estonians, from tots to pensioners, are wired.
Bearly tolerable
Much as they would like to, Estonians cannot ignore their Eastern neighbour. There are 140 million Russian citizens living next door making a scary ratio of 1:140 in favour of The Bear. Estonians feel that, at best, Russians are a noisy, sloppy lot, always on the bottle, producing bad quality goods and with gardens full of weeds.
Past present
Estonians are conservative. What was good enough for
their mothers and fathers, and the ancestors all the way back to the Stone Age, is good enough for the modern Estonian.
The Xenophobe's Guide to the Estonians is a recommended read for foreigners dealing with Estonians, those planning a trip to Estonia, or those just eager to find out more about us. It's a great gift for Estonians who have a good sense of humor, as well as giving the unknowing reader a decent portrait of us—an interesting and enjoyable way to learn something new about a piece of the world that too few can locate on the map.
Baltic Review - December 2010
The Xenophobe's Guides raise a smile and give you an understanding of the beliefs and foibles of nationalities.
Glasgow Evening Times
| | |
| --- | --- |
| Table of Contents | |
Nationalism & Identity 1
Character 10
Manners & Behaviour 15
Home & Family 24
Beliefs & Values 33
Obsessions 38
Leisure & Pleasure 45
Sense of Humour 51
Culture 54
Custom & Tradition 61
Eating & Drinking 71
Systems 75
Crime & Punishment 84
Language & Ideas 86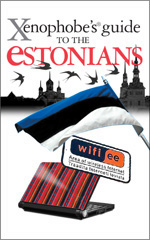 Authors: Hilary Bird, Lembit Opik and Ulvi Mustmaa
Format: 96 pages, pb
Published: 1/04/10
Updated: New title
Price: £4.99
ISBN: 978-1-906042-30-1
Online eBook. Click on button below to sample.