The Xenophobe's Guide to the Czechs
by Petr Berka, Ales Palan and Petr Stastny
A guide to understanding the Czechs that provides an irreverent look at the foibles of the people and the nation..
The Xenophobe's Guide to the Czechs
is now available on Kindle
CLICK HERE FOR KINDLE STORE UK
CLICK HERE FOR KINDLE STORE USA
All roads lead to Czechia
The Czechs seem to believe that the Earth is the centre of the Universe, Europe is the centre of the Earth and Czechia is at the centre of Europe.
Reality Czechs
The ability to put up with a situation adjusting as needs must, has been elevated to an art form.
Chuckling Czechs
Czech humour is distinguished by mad screams, breast and thigh slapping and uncontrollable braying.
Top of the Czech list
The Czechs would like to be seen as the cauldron in which all that's good from West and East melts; as if not the best, then at least one of the top nations in the world.
Xenophobe's of the world unite. There is hope that through these small but observant books you may be able to overcome ingrained prejudice.
Gibraltar Chronicle
| | |
| --- | --- |
| Table of Contents | |
Nationalism and Identity
Character
Attitudes and Values
Happy Families
Manners and Behaviour
Leisure and Pleasure
Drinking and Eating
Custom and Tradition
Sense of Humour
Culture
Systems
Culture
Systems
Business and Commerce
Government
Language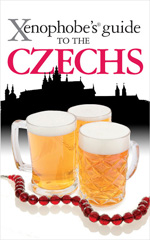 Authors: P. Berka, A. Palan & P. Stastny
Format: 96 pages, pb
Published: 20/02/08
New Title
Price: £4.99
ISBN: 978-1-902825-23-6
Online eBook. Click on button below to sample.