The Xenophobe's Guide to the Finns
by Tarja Moles
A guide to understanding the Finns that explores their national characteristics with humour and style.
The Xenophobe's Guide to the Finns
is now available on Kindle
CLICK HERE FOR KINDLE STORE UK
CLICK HERE FOR KINDLE STORE USA
A stiff remedy
These days natural remedies are viewed with a degree of suspicion, but this has not always been the case. For example, centuries before the invention of Viagra the people of Lapland were using reindeer antler powder to help out men whose stiffness was limited to their behaviour. If you are tempted to try this remedy, you should note that it is very potent. Don't overdose as you may find yourself completely hard all the way up to your neck. Don't make a brew out of it, either. The concoction will ruin your teapot by straightening its curved spout.
Down but not defeated
You would think that because life is as tough as it is, you would not have to make it even harder. But no, the Finns revel in hardship. They are at their best when circumstances are at their worst. And when things aren't so bad, it's important to give others the impression that they are.
Many are cold but few are frozen
The Finns think that of all the places on the planet it is the safest place to live: there are no volcanoes, tsunamis, hurricanes, earthquakes or deadly spiders. The fact that the mercury can plunge below -40°C in winter and you can die of hypothermia if you don't dress appropriately is a minor inconvenience. The possibility of being mauled by a bear in the wilderness is also, of course, barely worth mentioning.
Getting things for free is child's play
Some rural towns and villages attract families by offering free land to households with children. A parent pushing a pram travels free on public transport in the Greater Helsinki area since parents couldn't possibly be expected to direct their attention to such a trivial matter as paying the fare when they have the future of the nation to look after.
A witty, informative little book
I defy anyone to be unimpressed by a people who are as efficient and (notwithstanding the jokes in this book about their taciturn character) as friendly as I have always found the Finns. They also, as the author demonstrates, have a keen sense of humour and are able to laugh at their own foibles. Smuggled into the string of amusing anecdotes and tongue-in-cheek stereotypes is a surprising amount of genuinely useful information. Which meant that as well as being thoroughly entertained I learnt quite a bit from this slim volume. Highly recommended.
An Amazon Reader
A brilliantly witty guide book
I judged this book from two perspectives: firstly as a keen traveller and secondly as a published writer. Firstly, as a traveller, I have shelves creaking under the weight of numerous guide books and this one has to be one of, if not the absolute best. It tells me things I want to know about the people who live in the country; things which other guide books avoid mentioning. That alone makes it a worthwhile read. Secondly, as a published writer I enjoyed immersing myself in Ms Moles' brilliant text and wonderful sense of humour. This is about as far as you can get from a dry, dusty old guide book. It is refreshing and honest and a wonderful read. If you buy no other book about the Finns, buy this one. It is superb.
An Amazon Reader, Dorset, UK
Excellent pub chat account of the Finns by a Finn
The book reads like your Finnish friend giving you the low down on Finnish people and culture - very informative, very informal and unguarded.
An Amazon Reader
Short, aphoristic, seriously funny, not that xenophobic and almost entirely apt guide, perfect homework for the fortunate on ferry or plane.
The Observer
Sample to come
Sample to come
| | |
| --- | --- |
| Table of Contents | |
Nationalism and Identity
Character
Attitudes and Values
Happy Families
Manners and Behaviour
Leisure and Pleasure
Drinking and Eating
Custom and Tradition
Sense of Humour
Culture
Systems
Culture
Systems
Business and Commerce
Government
Language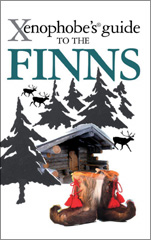 Authors: Tarja Moles
Format: 96 pages, pb
Published: 25/07/11
Updated:
Price: £4.99
ISBN: 978-1906042318