The Xenophobe's Guide to the Californians
by Anthony Marais
A guide to understanding the Californians which shows the quirks of personality that set them apart from the rest of the Americans.
I dream therefore I am
Californians are delusional. Like characters out of Dashiell Hammett's Maltese Falcon, they are forever chasing painted lead in the hope of finding gold beneath the surface. In fact, they are completely out of touch with just about everything except their image.
You better believe it
Californians are believers. Cynics, sceptics and atheists are advised to go directly to New York. Indeed, Californians take their beliefs so seriously that many lose touch with what doesn't need to be believed.
The not-so-free way
Traffic to the Californian is like ice to the Eskimo: it slows you down, you're surrounded by it, it's often a nuisance, but it just wouldn't be home without it. Coming to a complete stop on a 12-lane freeway with the sun glaring in your eyes to the tune of Life in the Fast Lane is an essential part of the California experience.
EQ versus IQ
It has been said that for every year you live in California you gain one point of EQ (Emotional Quotient). Rumour has it that it is paid for in loss of IQ, but that's beside the point. The result is that many Californians are indeed emotionally aware. At least, they believe themselves to be. And as the delusion dictates, if enough people believe something, it must be true.
Before leaving for my first holiday in California I came across the xenophobe's guide in my local bookstore. After driving the length and breadth of California I can wholeheartedly recommend this book, the Californians are everything it suggests and more!
Southampton, UK
Dude! This book is awesome! Wow!! California has been analyzed and humorized in this delightful book that will keep you laughing from beginning to end. Mr. Marais doesn't miss a beat as he rattles off one quip after another about this culture of characters that even Hollywood couldn't dream up! From pampered pooches to personal growth weekends, from smog alerts to freeway traffic jams, California has set itself up for this author's hilarious take on the "sunshine state". Enjoy!!
California, USA
I began reading this book on my lunch break at work - laughing out loud from the start! After work, I read it while walking to my car and while stopped at traffic lights on the drive home. Now, if that isn't a ringing endorsement! I've been to the Golden State a few times and I can vouch that the author describes Californians to a 'T'. This is a witty and insightful book that will be enjoyed even if you have no plans to visit. It's a lot of fun, give it a read!
New Jersey, USA
One of the funniest and truest books on Californian people! As a European who has done business in California for the past 14 years, I can say this is one of the funniest and truest books I've read on these people. No one traveling there should get off the plane without having read this little key. It is written in a humourous style that entertains while it informs.
Markdorf, Germany
Xenophobe's Guides aim to help us understand our differences.
Daily Express
Short, aphoristic, seriously funny, not that xenophobic and almost entirely apt guide, perfect homework for the fortunate on ferry or plane.
The Observer
| | |
| --- | --- |
| Table of Contents | |
Nationalism and Identity
Character
Attitudes and Values
Happy Families
Manners and Behaviour
Leisure and Pleasure
Drinking and Eating
Custom and Tradition
Sense of Humour
Culture
Systems
Culture
Systems
Business and Commerce
Government
Language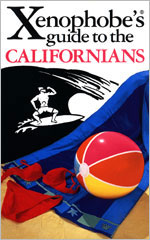 Author: Anthony Marais
Format: 64 pages, pb
Published: Out of Print
Updated: January 2003
Price: £3.99
ISBN-10 & ISBN-13: 1-902825-20-9