The Xenophobe's Guide to the Japanese
by Sahoko Kaji, Noriko Hama, Robert Ainsley
and Jonathan Rice
A guide to understanding the Japanese which goes beyond the etiquette to uncover the real nature of the people of the rising sun.
The Xenophobe's Guide to the Japanese
is now available on Kindle
CLICK HERE FOR KINDLE STORE UK
CLICK HERE FOR KINDLE STORE USA
Group dynamics
Everyone is part of some group and the group comes first. Inside this group, everyone has more or less the same understanding and the same attitudes. As the saying goes, 'The nail that sticks up will be hammered down'.
Can't say, won't say
The Japanese are trained throughout their lives to read each others' minds. This means it is not necessary to have or to express an opinion. In fact for a Japanese woman to be called opinionated is worse than being called ugly. And an exact translation of the word 'opinionated' does not even exist. To call a man 'decisive' is just as bad.
Haiku IQ
The quintessence of unspoken mutual understanding is to be found in the word yoroshiku: 'You have understood what I want you to do. I have understood that you have understood what I want you to do. Therefore I leave it up to you to finish the task and I expect it to be done in the way I want it to be done. And I thank you for understanding me and agreeing to take the trouble to do the task.' All this in four syllables.
Love me tender
For all the apparent worship of the way of the warrior, being yasashii, which means being gentle, tender, caring, yielding and considerate, is very important in Japan. Asked what a Japanese values most in a potential spouse, both sexes tend to put being being yasashii at the top of their list of desirable virtues. The concept is even applied to the inanimate. For instance, a car or shampoo can be yasashii to you, to the eye, and to the environment.
This book is simply excellent. In addition to being humorous, it is also extremely accurate, insightful and comprehensive. I have been studying Japan for as long as most, but even so I was able to discover points I had overlooked and explanations that had not occurred to me.
Tokyo, Japan
The publisher would welcome readers comments on this title.
Short, aphoristic, seriously funny, not that xenophobic and almost entirely apt guide, perfect homework for the fortunate on ferry or plane.
The Observer
A brief pen portrait of a nation and its people and even the odd humorous dig at their subject without being politically incorrect.
Lancashire Evening Telegraph
| | |
| --- | --- |
| Table of Contents | |
Nationalism and Identity
Character
Attitudes and Values
Happy Families
Manners and Behaviour
Leisure and Pleasure
Drinking and Eating
Custom and Tradition
Sense of Humour
Culture
Systems
Culture
Systems
Business and Commerce
Government
Language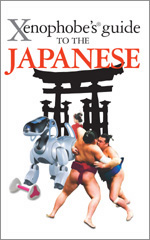 Authors: Sahoko Kaji, Noriko Hama, Robert Ainsley and Jonathan Rice
Format: 96 pages, pb
Published: Coming Soon
Updated: 2010
Price: £4.99
ISBN: 978-1-906042-40-0
Online eBook. Click on button below to sample.