The Xenophobe's Guide
to the Israelis
by Aviv Ben Zeev
A guide to understanding the Israelis that unravels their idiosyncracies and national characteristics.
The Xenophobe's Guide to the Israelis
is now available on Kindle
CLICK HERE FOR KINDLE STORE UK
CLICK HERE FOR KINDLE STORE USA
Gift of the gaffe
Israelis have never accepted themselves as part of the Middle East. It is well known in Israel that when God asked Moses where he would like to lead the Israelites, Moses (who had a severe stutter) had his heart set on Canada and answered:''Ca...Caan...Caaaan...''. ''Canaan it is, then'', ruled the Almighty. The rest is history.
Suckers for sentiment
Israelis have been likened to the native cactus fruit, the Sabra, which is covered with thorns on the outside yet is sweet and mushy on the inside. Music carries this emotionalism a long way, with Israeli 'golden oldies' making grown men cry, and nostalgia films on television receiving top ratings.
Family first
At the centre of every Israeli's existence stands his family. The Jewish mama nurtures her babes from the age of 0 till 80. Children are expected to grow up respecting their parents, to live at their parents' home until conscription age, to become lawyers or doctors, to marry into a good family (it can't hurt if they're rich as well), to reside in immediate proximity to their greying elders and to produce grandchildren ASATWO (As Soon As The Wedding is Over).
Help is at hand
Israelis cannot resist trying to help their fellow man. This often takes the form of meddling, and can even be mistaken for rudeness. They will interfere in someone else's conversation on the street to offer some good-hearted advice; they will read the newspaper in the hands of the man sitting next to them on the bus and proceed to ask him not to turn the pages so fast; they will never allow a fellow Israeli to fix his car by himself, even against protest.
A must for anyone who ever comes in contact with Israelis, Great read. This book is a must for anyone who ever comes in contact with Israelis. I am an immigrant in Israel and I only wish I had read this book when I first came here - would've saved me a lot of misunderstandings. Now that I am here, I read this book and see how much it is correct about all, even the little details. Most of all - it's a funny and amazing book.
Israel
The publisher would welcome readers comments on this title.
An enlightened new series, good natured, witty and useful. The Xenophobe's Guides to different nations deserves a real cheer.
The European
The Xenophobe's Guides raise a smile and give you an understanding of the beliefs and foibles of nationalities.
Glasgow Evening Times
| | |
| --- | --- |
| Table of Contents | |
Nationalism and Identity
Character
Attitudes and Values
Manners
Behaviour
Obsessions
Custom and Tradition
Sense of Humour
Government and Bureaucracy
Leisure and Pleasure
Eating and Drinking
Health and Hygiene
Systems
Culture
Business
Crime and Punishment
Conversation and Gestures
Language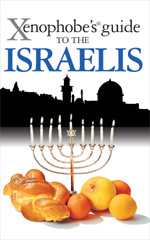 Author: Aviv Ben Zeev
Format: 96 pages
Published: Oct 2011
Updated: Oct 2011
Price: £4.99
ISBN: 9781906042387