The Xenophobe's Guide to the Belgians
by Antony Mason
A guide to understanding the Belgians, best known for their fine chocolate, which reveals a humorous and insightful view of the people.
The Xenophobe's Guide to the Belgians
is now available on Kindle
CLICK HERE FOR KINDLE STORE UK
CLICK HERE FOR KINDLE STORE USA
Practicality makes perfect
Belgians like above all to be practical, solid. They stand square and conduct conversation from the base of the neck. Courteous behaviour is expected: it is the natural product of right-mindedness. It is also practical: that is how you get on in the world.
Tidy attitudes
They are almost naively devoted to being good citizens. Any kind of vandalism, dropping litter, or deliberate anti-social behaviour is greeted with horror and disgust.
We're on the map
The Belgians would be very happy indeed if all the world knew them to be good-natured, tolerant, individualistic, self-assertive, modest, moderate, and the embodiment of European ideals. This is a long-term project. Meanwhile being placed somewhere on the map of Europe will do.
Home economics
The Belgians like to think of themselves as practical, down-to-earth, dependable. A good Belgian woman knows how to run a household, knows the right temperature for the beer, can cook steak to perfection, shops efficiently at the megastore and holds down a job. Her husband holds down a job, drinks the beer, eats the steak and spends the weekend proudly changing his own oil sump gasket.
Worth the time for a quick start; I knew nothing about Belgium when I started reading. The strength of the Xenophobe's guides is their short coverage, rather than the insights of the Culture Shock! series. I read this one in about 40 minutes, and it helped me understand some of the key issues among the Belgians. It covered current issues, with very little history, and provided enough background to appreciate some basic aspects of Belgian culture. Although a little light-hearted in its discussion, I feel comfortable passing it on to a Belgian friend.
Springfield, Virginia
I am Irish and live in Brussels and I bought this book to try to get an idea of what to expect from the Belgians. It has helped explain where they are coming from, their home life and their interests/obsessions. Of course, it is impossible to generalise about a group of such people of such diverse origins, history and culture, but it highlights the many likeable characteristics of the Belgians and their country.
Brussels, Belgium
A brief pen portrait of a nation and its people and even the odd humorous dig at their subject without being politically incorrect.
Lancashire Evening Telegraph
An enlightened new series, good natured, witty and useful. The Xenophobe's Guides to different nations deserves a real cheer.
The European
| | |
| --- | --- |
| Table of Contents | |
Nationalism and Identity
Character
Attitudes and Values
Happy Families
Manners and Behaviour
Leisure and Pleasure
Drinking and Eating
Custom and Tradition
Sense of Humour
Culture
Systems
Culture
Systems
Business and Commerce
Government
Language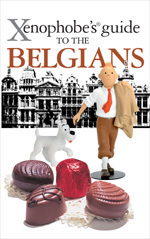 Author: Antony Mason
Format: 96 pages, pb
Published: 01/06/09
Updated: New Edition
Price: £4.99
ISBN: 978-1-906042-22-6
Online eBook. Click on button below to sample.