The Xenophobe's Guide
to the English
by Antony Miall and David Milsted
A guide to understanding the English that gets beyond the stiff upper lip and reveals their true spirit and character.
The Xenophobe's Guide to the English
is now available on Kindle
CLICK HERE FOR KINDLE STORE UK
CLICK HERE FOR KINDLE STORE USA
Never overstep the mark
Moderation – a treasured ideal – means a lot to the English. Their respect for it is reflected in their shared dislike of any person who 'goes too far'.
Irrational rationality
The English can admire something without enjoying it, or enjoy something they suspect is fundamentally reprehensible. You can never be sure which stance they are going to take – the reassuringly reasonable, or the wildly irrational.
I'm fine, really
Stoicism, the capacity to greet life's vicissitudes with cheerful calm, is an essential ingredient of Englishness.
Push-me, pull-you
Two equally fundamental but contradictory English characteristics are a love of continuity and a yearning for change. In the English character these two opposite desires vie with each other constantly, which produces some curious behaviour patterns and several characteristics most usually observed in the classic split personality.
The book is amusing, and surprisingly spot-on. Covering areas such as class, making tea, sport, distrust of foreigners, etc this book explains the English very well. Anyone who wants to understand the English better would do very well to read this.
Bristol, UK
This book reviews the English way of life, with all its peculiarities and also with its contradictions. You will enjoy it if: a) you know the English way and check that you weren't the only one to find those strange behaviours. b) You are an Englishman/woman with good sense of humor that enjoy knowing how the people see you.
Madrid, Spain
I'm taking a trip to England in a couple of weeks and came across this book and thumbed thought it... And since I correspond with people in England it was very interesting to me ...and reading it I found myself smiling because some of the things mentioned were true, and I couldn't help but buy it and read it completely. Overall a great insight to the mentality in a comical way.
California, USA
Each book is an entertaining essay on the failings, foibles and good points of their subjects. Their humour is relaxed and gentle and it would be a sour, churlish native of a subject country who would object seriously.
The Northern Times
The Xenophobe's Guides raise a smile and give you an understanding of the beliefs and foibles of nationalities.
Glasgow Evening Times
| | |
| --- | --- |
| Table of Contents | |
Nationalism and Identity
Character
Attitudes and Values
Happy Families
Manners and Behaviour
Leisure and Pleasure
Drinking and Eating
Custom and Tradition
Sense of Humour
Culture
Systems
Culture
Systems
Business and Commerce
Government
Language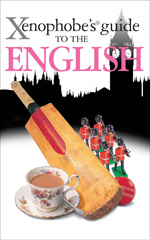 Authors: Antony Miall and David Milsted
Format: 96 pages, pb
Published: 30/04/08
Updated: New edition
Price: £4.99
ISBN: 978- 1-906042-29-5
Online eBook. Click on button below to sample.