The Xenophobe's Guide
to the Germans
by Stefan Zeidenitz and Ben Barkow
A guide to understanding the Germans that uncovers their insecurities and gently dispels even the most ingrained prejudices.

The Xenophobe's Guide to the Germans
is now available on Kindle
CLICK HERE FOR KINDLE STORE UK
CLICK HERE FOR KINDLE STORE USA
Teutonic torment
In every German there is a touch of the wild-haired Beethoven striding through forests and weeping over a mountain sunset, grappling against impossible odds to express the inexpressible. This is the Great German Soul, prominent display of which is essential whenever Art, Feeling and Truth are under discussion.
Angst breeds angst
As a nation, the Germans are racked with doubt and fight constantly to keep chaos at bay. Being German, they cannot brush their doubts aside or put off worrying in favour of a pint and a laugh. Not for them the touching British faith that it "will be all right on the night", that it "all comes out in the wash". For a German, doubt and anxiety expand and ramify the more you ponder them. They are astonished that things haven't gone to pot already, and are pretty certain that they soon will. Germany is after all, the Land of Angst.
Longer must be better
Most Germans apply the rule that more equals better. If a passing quip makes you smile, then surely by making it longer the pleasure will be drawn out and increased. As a rule, if you are cornered by someone keen to give you a laugh, you must expect to miss lunch and most of that afternoon's appointments.
The importance of being earnest
Because life is ernsthaft (earnest), the Germans go by the rules. Schiller wrote, 'obedience is the first duty', and no German has ever doubted it. This fits with their sense of order and duty. Germans hate breaking rules, which can make life difficult because, as a rule, everything not expressly permitted is prohibited.
The nature of the Germans - very funny but true description. You must read this book, if you want to learn more about the strange nature of the Germans because you will find most of it in no other book. The book is full of prejudices - but they are all true (I can assure you because I AM one of the strange people). There are comments to nearly everything which is different in Germany, e.g.: Polishing cars, drinking beer, order & discipline, "everything is forbidden unless it is explicitly allowed", why you don't have a German word for "small talk". Some Germans will NOT like this book, because they don't like that somebody laughs about them. But I think, everyone who reads this bookwill understand their (sometimes strange) behaviour better.
Stuttgart, Germany
Concise, true and very funny. I'm a German working from time to time abroad (often in the UK). I think it is a great insight on the attitudes, implicit policies and main motivations of Germans. Furthermore, it is very funny (I had to read it in one session and was laughing out loud most of the time). A must read if you plan to go to Germany!
Dortmund, Germany
Brilliant balance between British humour and German reality! This book is absolutely hilarious! As a German who lived in London for 2 years, I think I am well qualified to congratulate the authors on their well balanced analysis of the German mind and culture. The combination of British humour and German reality is absolutely perfect - it made a German laugh!
Frankfurt, Germany
I have read a few of the Xenophobe's Guides, and this so far is the best and the funniest. Maybe because I have lived here for the last two years, and experienced all the wonderful quirks and traits of the locals that I could relate to this book, but really, it is for everyone who plans to visit or live here, and of cause for the Germans themselves. Natually, I didn't agree with all of it, especially the working atmosphere... It's really not as formal as written in the book, at least not these days, but much of the rest runs true.
Germany
Xenophobe's Guides which give a wickedly satirical look at the foreigners we love to hate...
Cambridge Evening News
An enlightened new series, good natured, witty and useful. The Xenophobe's Guides to different nations deserves a real cheer.
The European
| | |
| --- | --- |
| Table of Contents | |
Nationalism and Identity
Character
Attitudes and Values
Happy Families
Manners and Behaviour
Leisure and Pleasure
Drinking and Eating
Custom and Tradition
Sense of Humour
Culture
Systems
Culture
Systems
Business and Commerce
Government
Language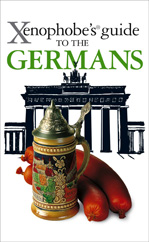 Authors: Stefan Zeidenitz and Ben Barkow
Format: 96 pages, pb
Published: 20/02/08
Updated: New Edition
Price: £4.99
ISBN: 978-1906042-33-2
Online eBook. Click on button below to sample.