The Xenophobe's Guide to the Canadians
by Vaughn Roste and Peter W. Wilson
A guide to understanding the Canadians which shows the quirks of personality that set them apart from their neighbours to the south in the United States of America.
The Xenophobe's Guide to the Canadians
is now available on Kindle
CLICK HERE FOR KINDLE STORE UK
CLICK HERE FOR KINDLE STORE USA
The fabric of society
The nation aspires towards a 'cultural mosaic', something like a patchwork quilt, whereas Americans have aimed for the 'melting pot'. Canadians are essentially practical, and have figured out that the bat-brained idea of a melting pot would simply never work in a country where 50% of the land never completely thaws at all. A quilt is a much more pragmatic idea: it's cold outside.
On a clear day you can see forever
Having so much land has a great effect on the character, customs and culture of the nation. Take, for example, the prairies. The plains of Canada stretch out endlessly. The flattest spot in the world can be found here, with nary a tree to obstruct the view, which leaves the prairie observer with a remarkably huge view of nothing. In Saskatchewan it is said that you can watch your dog running away for three days.
Honesty is the best policy
In the settling of the Canadian prairies, the early pioneers had no-one to rely on but themselves and their near neighbours. Honesty and integrity were important, not to mention things like a good reputation and a virtuous character. It's an attitude that persists to this day. In areas with sparse population, one cannot underestimate the power of public opinion (and the potential damage of the rumour mill). Peer pressure promotes public propriety. Politicians are expected to live up to their promises (and are regularly voted out when they regularly don't).
The bear truth
Canadians are down-to-earth, even earthy, people, and there are fewer extremes of class in Canadian society than in many others. Arrogance is curtailed by a lack of things about which to brag, although in your presence a Canadian might have caught a larger fish or climbed a higher mountain than you have, and killed a more ferocious grizzly bear (with his bare hands, naturally).
Please send us your review or thoughts on this title.
info@ovalbooks.com
Xenophobe's Guides aim to help us understand our differences.
Daily Express
Short, aphoristic, seriously funny, not that xenophobic and almost entirely apt guide, perfect homework for the fortunate on ferry or plane.
The Observer
| | |
| --- | --- |
| Table of Contents | |
Nationalism and Identity
Character
Attitudes and Values
Happy Families
Manners and Behaviour
Leisure and Pleasure
Drinking and Eating
Custom and Tradition
Sense of Humour
Culture
Systems
Culture
Systems
Business and Commerce
Government
Language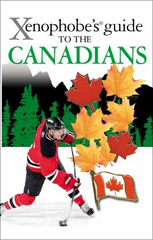 Authors: Vaughn Roste and Peter W. Wilson
Format: 96 pages, pb
Published: 1/6/09
Updated: June 2009
Price: £4.99
ISBN: 978-1-906042-25-7
Online eBook. Click on button below to sample.