The Xenophobe's Guide to the Poles
by Ewa Lipniacka
A guide to understanding the Poles that displays their true character with perception and affection.
The Xenophobe's Guide to the Poles
is now available on Kindle
CLICK HERE FOR KINDLE STORE UK
CLICK HERE FOR KINDLE STORE USA
A polarised people
The Poles are either bubbling with life, or comatose; they love or they loathe. It is this total commitment to the occupation of the moment which earns them the reputation of being mercurial. As Hemar wrote in his song: 'If only Poles did systematically and economically what they do spontaneously, they would be perfect.'
Necessity is the mother of invention
Key national characteristics are adaptability, a knack for improvisation, and the ability to make the best of what is available. A good Polish cook is one who can make gourmet soup from a rusty nail.
The Polish touch
Devotion to style pervades all areas of life: the table might be rickety, but it is covered with a snowy tablecloth and decorated with a vase of flowers.
Never say never
When the Communists rather foolishly tried to stop the Poles practising their religion, the churches filled to overflowing. 'Forbidden' is a term of encouragement to a Pole.
Very good intro to a country I knew nothing about. The book is short enough to be read in one sitting yet it is not simplistic. The humor keeps the narrative going and the insights into Polish life are from one who obviously knows the people. ... Excellent book and I have subsequently read some others in the series and they too were high quality!
London, UK
What superb insight, what humour - but of course written by a Pole. As a first generation Pole it reminds me of my upbringing - I see my mother in every page. This is well worth a read and I am buying several to put in relationÍs Christmas stockings.
Romford, UK
I first read this book travelling by coach to Poland and I laughed and laughed all the way there. I laughed so much that I ached. It was almost impossible to put the book down. So much of it reflected my own experiences.
Noak Hill, UK
For anyone who wanted to learn more about Polish people and culture and want to do it on the plane to Warsaw then this is the book for them!!! It will help you understand all of the strange characteristics you will come across in Poland, while also providing useful practical information. It made me giggle all the way through, canÍt wait to buy a copy for my Polish friend!!!
Cork, Eire
An enlightened new series, good natured, witty and useful. The Xenophobe's Guides to different nations deserves a real cheer.
The European
Each book is an entertaining essay on the failings, foibles and good points of their subjects. Their humour is relaxed and gentle and it would be a sour, churlish native of a subject country who would object seriously.
The Northern Times
| | |
| --- | --- |
| Table of Contents | |
Nationalism and Identity
Character
Attitudes and Values
Happy Families
Manners and Behaviour
Leisure and Pleasure
Drinking and Eating
Custom and Tradition
Sense of Humour
Culture
Systems
Culture
Systems
Business and Commerce
Government
Language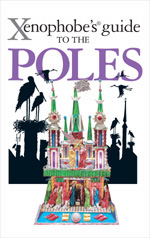 Author: Ewa Lipniacka
Format: 96 pages, pb
Published: 01/02/2009
Updated: New Edition 2009
Price: £4.99
ISBN: 978-1-906042-44-8
Online eBook. Click on button below to sample.