The Xenophobe's Guide to the French
by Nick Yapp and Michel Syrett
A guide to understanding the French that explores the raison d'etre behind the Gallic facade with humour and style.
The Xenophobe's Guide to the French
is now available on Kindle
CLICK HERE FOR KINDLE STORE UK
CLICK HERE FOR KINDLE STORE USA
Anything goes
The French are the most faddish people in the world; They love ideas, concepts, innovations - playing around with things, like democracy, railway systems, architecture. It's not the practical end of the road they're interested in, but the journey, the possibilities, hence the way they drive, as though safe arrival at their destination was the last thing on their minds.
I drink therefore I am
France is a country that eats, drinks and breathes philosophy. There is not a farmer, fisherman, waiter, car-worker, shop assistant or housewife who isn't a closet Diderot or Descartes, a Saint-Simon or a Sartre.
Souls of the soil
Intellectually and spiritually the French still associate themselves very much with the land, romanticising rural and village life to wild improbabilities. Inside every Bordeaux technocrat or sophisticated Parisian beats the heart of a genuine paysan.
Dress for power
French politicians look smart because power itself is chic, attractive, seductive, and one should dress to look the part. The French electorate would never allow any government to intervene in their lives if it were shabbily dressed.
Although I do not plan to visit France, I still bought, read, and thoroughly enjoyed this book. It's always fascinating to learn about the perspective of cultures different from your own. This book is quick, easy, enjoyable reading.
Florida, USA
Very, very, TRUE.
London, UK
This book is lettuce to my snails. Being a frog myself reading this book comforted me in my belief that our arrogance was justified. Joke apart it is a jolly good read and ever so funny. Everyone should read it.
Guenin, France
Short, aphoristic, seriously funny, not that xenophobic and almost entirely apt guide, perfect homework for the fortunate on ferry or plane.
The Observer
La France comes to life in this tongue-in-cheek pocket guide, a textual romp that disguises a lot of information about France with an irreverent brush.
Southern Cross
| | |
| --- | --- |
| Table of Contents | |
Nationalism and Identity
Character
Attitudes and Values
Happy Families
Manners and Behaviour
Leisure and Pleasure
Drinking and Eating
Custom and Tradition
Sense of Humour
Culture
Systems
Culture
Systems
Business and Commerce
Government
Language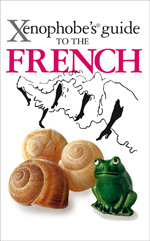 Authors: Nick Yapp and Michel Syrett
Format: 96 pages, pb
Published: 01/09/99
Updated: July 2008
Price: £4.99
ISBN: 978-1906042325
Online eBook. Click on button below to sample.
Have you read
French for Xenophobe's?