The Xenophobe's Guide to the Greeks
NEW EDITION JUST PUBLISHED
by Alexandra Fiada
A guide to understanding the Greeks which takes an insightful, irreverent look at their character and attitudes.
The Xenophobe's Guide to the Greeks
is now available on Kindle
CLICK HERE FOR KINDLE STORE UK
CLICK HERE FOR KINDLE STORE USA
I am what I am
Individuality is the chief feature that characterises the Greeks - which precludes any attempt to box and label them as a people. They exhibit an extreme passion for freedom of choice - which has turned law circumvention into an art and has made them incapable of comprehending words like 'discipline', 'co-ordination' or 'system'.
There's no such thing as a meek Greek
A Greek cannot talk unless he has his hands free, and a soft-spoken Greek is one who can be heard only as far as across the street. Two Greeks having an amiable conversation sound as if they are ready to murder each other, and a party of exuberant Greeks having a good time could be described as a pack of hounds that has just sighted the fox.
Free spirits
Mercurial in the extreme, the Greeks' temperament flourishes uninhibited throughout their waking hours. This is probably why the ancient sages saw fit to carve their maxims 'Nothing in excess' and 'Know thyself' on the portals of the Delphic Oracle, in an attempt to persuade their fellow Greeks to curb their emotions. They were not heeded then any more than they are now.
How much does a Greek urn?
In general, Greeks believe in free trade, fair dealing and keeping one's word. They are quick at grasping (and inventing) complicated business and financial arrangements and they are past masters in acting as middlemen - which means that they are paid by both parties while risking nothing themselves.
This small book better describes the average Greek and his society than any book I have read. The author is frank about the good and not so good qualities of the average Greek but does it in a way that doesn't offend. I have shown it to Greek friends and they agree with most of the descriptions of the Greek society, people, and government. Recommended for anyone going to Greece which is a must see country.
... United States of America
Great Book! Being Greek and reading this book really made me laugh! Every word in it is absolutely true and the author presents everything in their true manner. Great book to read if you want to know how Greeks are and react!
London, UK
Extremely witty and humorous - and preferably enjoyed with an ouzo, several mezedes and at least four chairs to drape the body on!
The Hellenic Times
Xenophobe's Guides aim to help us understand our differences.
Daily Express
| | |
| --- | --- |
| Table of Contents | |
Nationalism and Identity
Character
Attitudes and Values
Happy Families
Manners and Behaviour
Leisure and Pleasure
Drinking and Eating
Custom and Tradition
Sense of Humour
Culture
Systems
Culture
Systems
Business and Commerce
Government
Language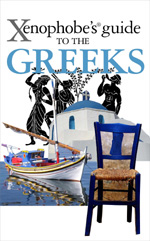 Author: Alexandra Fiada
Format: 96 pages, pb
Published: 15/08/10
NEW EDITION
Price: £4.99
ISBN: 978-1-906042-34-9