The Xenophobe's Guide to the Spanish
by Drew Launay
A guide to understanding the Spanish that views them with the same light-hearted attitude that they themselves display in life.
The Xenophobe's Guide to the Spanish
is now available on Kindle
CLICK HERE FOR KINDLE STORE UK
CLICK HERE FOR KINDLE STORE USA
Fun in the sun
Anyone attempting to understand the Spanish must first of all recognise the fact that they do not consider anything important except total enjoyment. If it is not enjoyable it will be ignored.
You can't buy happiness
The happiness of the individual is considered to be much more important than money. The goatherd who strolls the countryside with his animals breathing in the fresh air and loving his problem-less life is much more admired than the wealthy industrialist who hasn't time to enjoy life and spends quite a lot of his earnings on medicines to calm his peptic ulcers.
Sexplicit
In Spain lust is ever in the air. There is nothing about the Spanish appreciation of sex that is inhibited or restrained. It is accepted that both men and women love making love, which is why there are very few sexual crimes in the country.
Everything in triplicate
It is impossible to reside in Spain without spending part of your life applying to an authority for some sort of permit, either to be allowed to go on existing once you are born, to be allowed to stay if you have come from abroad, to be allowed to start a business, drive a car, build a house, pull one down or be buried in reasonable comfort.
Excellent book. Good coverage of all Spanish quirks. My friends in Spain loved it.
London, UK
This book is just fantastic and everything it says is true. I'm Spanish and I enjoyed it very much. All the topics are treated with lots of humour and that makes the book really enjoyable. Furthermore, while you are having fun reading the book you can learn the Spanish way of life.
Spain
So "on-target" I laughed in fond rememberance! This book is a witty and very clever look at Spanish society. I found most of what I read to be so incredibly true that I was laughing out loud. There are some parts which I found to be less than accurate, in my experience at least, and for that I give it four stars instead of five. Other than that, I highly recommend it. Do take it with a grain of sand however.
Michigan, USA
Humorous explanations for the Spanish way of life I have read many of the 'Xenophobe's guides' and this one, once again hits the mark, spot on! I have several Spanish friends and have lived in Spain for several months and this book reminded me of many of the funny incidents I've had with the Spanish. Without going into excessive detail and in a very humorous way, the book gives you so much information about the real nature of the people and the country. I couldn't put the littlebook down and read it in a matter of hours. I find myself dipping into it now and again just to remind me of the Spanish way.
Denmark
Highly informative and amusing.
The Entertainer (Spain)
Xenophobe's Guide to the Spanish, might not have the most politically correct title but it has a reputation for being one of the most sympathetic and incisive takes by a foreigner on the habits, outlook and foibles of Spaniards. This Spanish-domiciled writer follows up with another great book (Spanish for Xenophobes) that will interest anyone learning the lingo.
Spain Magazine
Each book is an entertaining essay on the failings, foibles and good points of their subjects. Their humour is relaxed and gentle and it would be a sour, churlish native of a subject country who would object seriously.
Lancashire Evening Telegraph
| | |
| --- | --- |
| Table of Contents | |
Nationalism and Identity
Character
Attitudes and Values
Happy Families
Manners and Behaviour
Leisure and Pleasure
Drinking and Eating
Custom and Tradition
Sense of Humour
Culture
Systems
Culture
Systems
Business and Commerce
Government
Language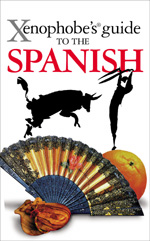 Author: Drew Launay
Format: 96 pages, pb
Published: January 2010
Updated: New Edition
Price: £4.99
ISBN: 978-1-906042-48-6
Online eBook. Click on button below to sample.