The Xenophobe's Guide to the Aussies
by Ken Hunt and Mike Taylor
A guide to understanding the Aussies which takes an insightful, laconic look at their character and attitudes.
The Xenophobe's Guide to the Aussies
is now available on Kindle
CLICK HERE FOR KINDLE STORE UK
CLICK HERE FOR KINDLE STORE USA
Appearances are deceptive
Never make the error of underestimating the Aussies. They love to portray a casual disregard for everything around them, but no-one accidentally achieves a lifestyle as relaxed as theirs.
Logic down under
Aussies will twist any statistics to their own ends. One statistic doing the rounds was that 40% of drivers in accidents had been drinking. Since this left 60% of drivers who hadn't had a drop, but who still had accidents, it must obviously be safer to drink and drive.
Let's talk 'strine'
The Aussies are not subtle and neither is their language. They will say what they mean. The problem is that the words they use don't always mean what they say. For example: bluey - someone who has red hair; you're orright - you are absolutely super; itsa bit warm - it is probably 120¹F in the water bag (water bags are always hung in the shade); that'd be right - I don't believe it either.
Out in the outback
Nature is the biggest single influence on the Aussie attitude. And a very harsh and unforgiving influence it is. Reality, totally uncontrollable, is never far outside the suburban limits.
If you ever find yourself at the end of tortuous heckling from an Aussie, this book will give you all the ammunition you need to fight back.
Twickenham, UK
When I first emigrated to Australia I found it hard to adjust and found myself a little down under. Then a friend from back home sent me a copy of the Xenophobe's Guide to the Aussies. What a corker of a book. Suddenly my new found Australian mates made sense. If you are thinking of coming out for a visit or even permanently read this book now.
Outback, Australia
A handy series of books which could prove essential reading for the innocent abroad.
Scarborough Evening News
A brief pen portrait of a nation and its people and even the odd humorous dig at their subject without being politically incorrect.
Lancashire Evening Telegraph
| | |
| --- | --- |
| Table of Contents | |
Nationalism and Identity
Character
Behaviour
Beliefsand Values
Obsessions
Manners
Leisure and Pleasure
Tucker and Grog
Custom and Tradition
Sense of Humour
Crime and Punishment
Systems
Cultcha
Systems
Business
Government
Language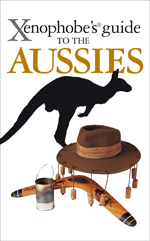 Authors: Ken Hunt and
Mike Taylor
Format: 96 pages, pb
Published: December 2008
NEW EDITION
Price: £4.99
ISBN: 978-1-906042-20-2
Online eBook. Click on button below to sample.